Boating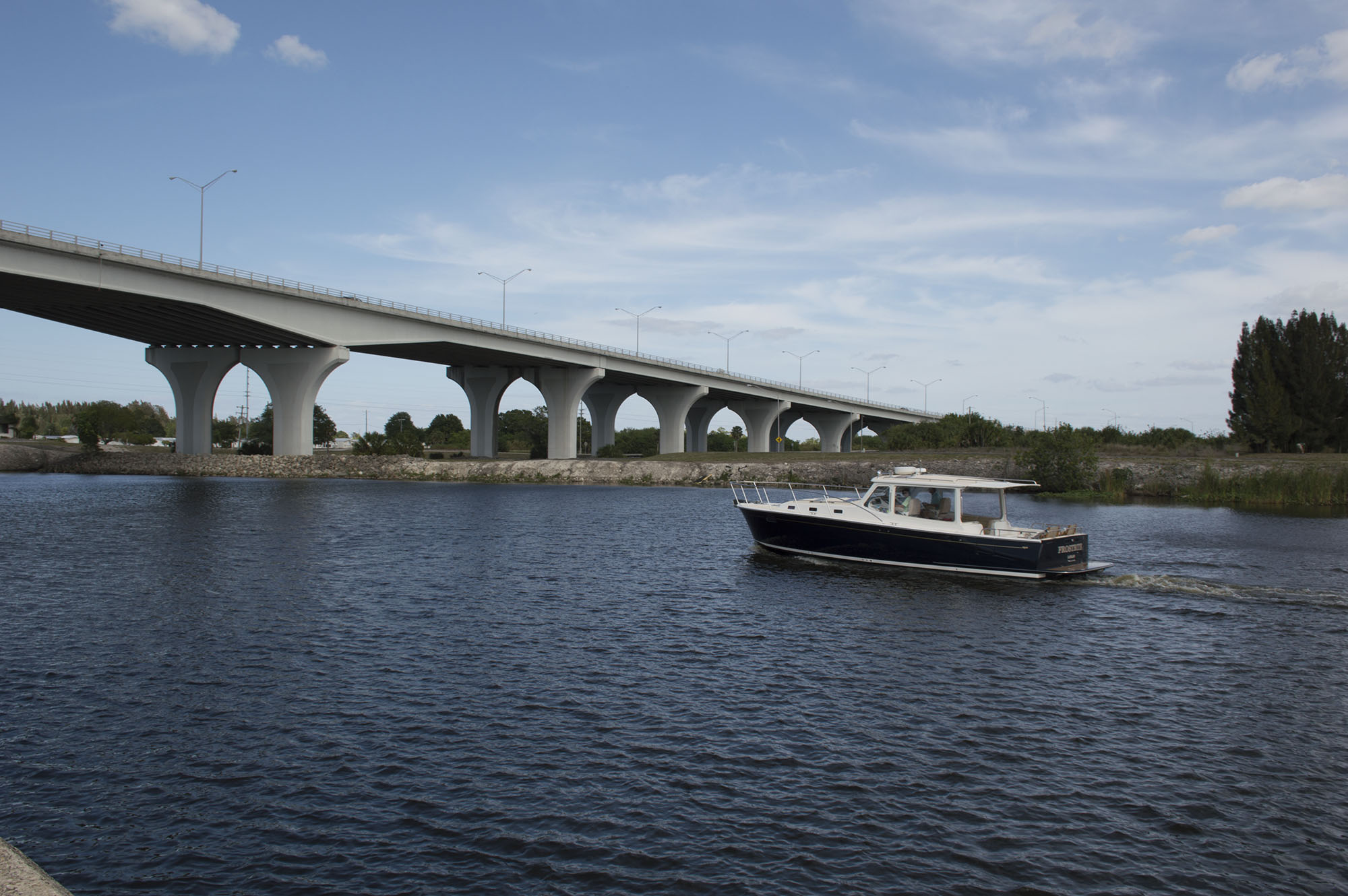 When visitors to Florida think of boating, most either envision bass boats and pontoons fishing on one of the state's many lakes or pleasure craft cruising the intercoastal waterways on either coast and visiting marinas and resorts along those routes.
So, you may be surprised to learn that 10,000 watercraft lock through the Moore Haven lock in Glades County each year while transiting the Okeechobee Waterway which connects Stuart on Florida' east or Atlantic Coast with Fort Myers on Florida's west or Gulf Coast.
Okeechobee Waterway
The Okeechobee Waterway was developed in the early 1900's by digging two man-made canals—from the headwaters of the Caloosahatchee River on the Gulf Coast and from the St. Lucie River on the East Coast—to Lake Okeechobee. The official length of The Okeechobee Waterway is 156 miles or 134.3 nautical miles from its intersection with the Atlantic Intracoastal Waterway in Stuart to the Gulf Intracoastal Waterway in Fort Myers.
Because Lake Okeechobee is relatively shallow, with depths ranging from 9 to 13 feet, to maintain the lake's depth, the United States Army Corps of Engineers built locks to raise vessels from sea level on the Gulf Coast to the level of Lake Okeechobee, and two locks to lower vessels back down to sea level on the Atlantic Ocean.
On average, 30 minutes should be allowed to transit each lock. Unless operating on restricted hours during low water levels, the locks open on request daily from 7AM until 5PM. The last entrance to a lock is at 4:30PM. A fast boat averaging 20 knots can complete the crossing in about eight hours. A sailboat would take around 20 hours at 7 knots, making for a leisurely trip with two nights spent on the waterway in the process.
Moore Haven
Whether cruising or sailing, Moore Haven in gloriously natural Glades County is that natural midway point between Fort Myers and Stuart and for that reason the city offers yacht dockage, restroom and shower facilities and other amenities to serve the boating public. Barbecue grills and picnic areas dot the Riverwalk which is built along the seawall which supported the original Moore Haven locks built in 1918. The City also offers bait and convenience items at the City Marina and dock space for boats up to 32 ft. Additional amenities, including a clean vessel pump out and additional dockage are in development, as is a waterfront restaurant.
Besides what's offered in the county seat, a host of other facilities line either side of the shoreline along the 60-mile length of the Caloosahatchee which flows through gloriously natural Glades County.
River Forest Yachting Center
River Forest Yachting Center in Ortona, just outside LaBelle, features 100,000 square feet of climate-controlled yacht storage, 1000 linear feet of dock space within a barnacle free 900 ft. deep water basin, an 82 ton marine travel lift capable of transporting boats with up to 22 ft beams, a clubhouse complete with meeting space, galley kitchen and ships store.
River Forest offers climate-controlled indoor storage and maintenance and outfitting services for the discerning yachtsmen.
Meadowlark Shores RV Park
Next door to River Forest is Meadowlark Shores RV Park which offers riverfront moorings for larger vessels and boasts a pool, community center, laundry and showers and a convenience store on site.
On the other side of the Caloosahatchee, between the cities of Clewiston and LaBelle in Hendry County off SR 80, is the Glades RV Resort & Marina. The only RV park in Glades County with a marina on the Caloosahatchee River, the Glades Resort is home to the newly opened "Grumpy's Pizza" where boats can dock and dine to enjoy pizza, subs and salads or their favorite Italian dinner specialties served in the two-story waterfront restaurant featuring an antique bar. The Glades also offers cozy cabin rentals, complete with kitchenette and screened in porches, from which visitors can enjoy birdwatching on this former Glades County ranch.
As you continue east to Moore Haven, you'll see the Riverhouse Marina, formerly the original Moore Haven Hotel, built to occupy an entire city block in 1915. A favorite of sailboats and yachts, the Riverhouse Marina is privately owned but the owner is currently repairing the docks for those transiting the Waterway who often dock there once the locks close at 5 p.m.
ADD PAGE
As you navigate our website, you can use the "Add Page to Report" button to add any page or property to a custom report that you can print out or save.