Moore Haven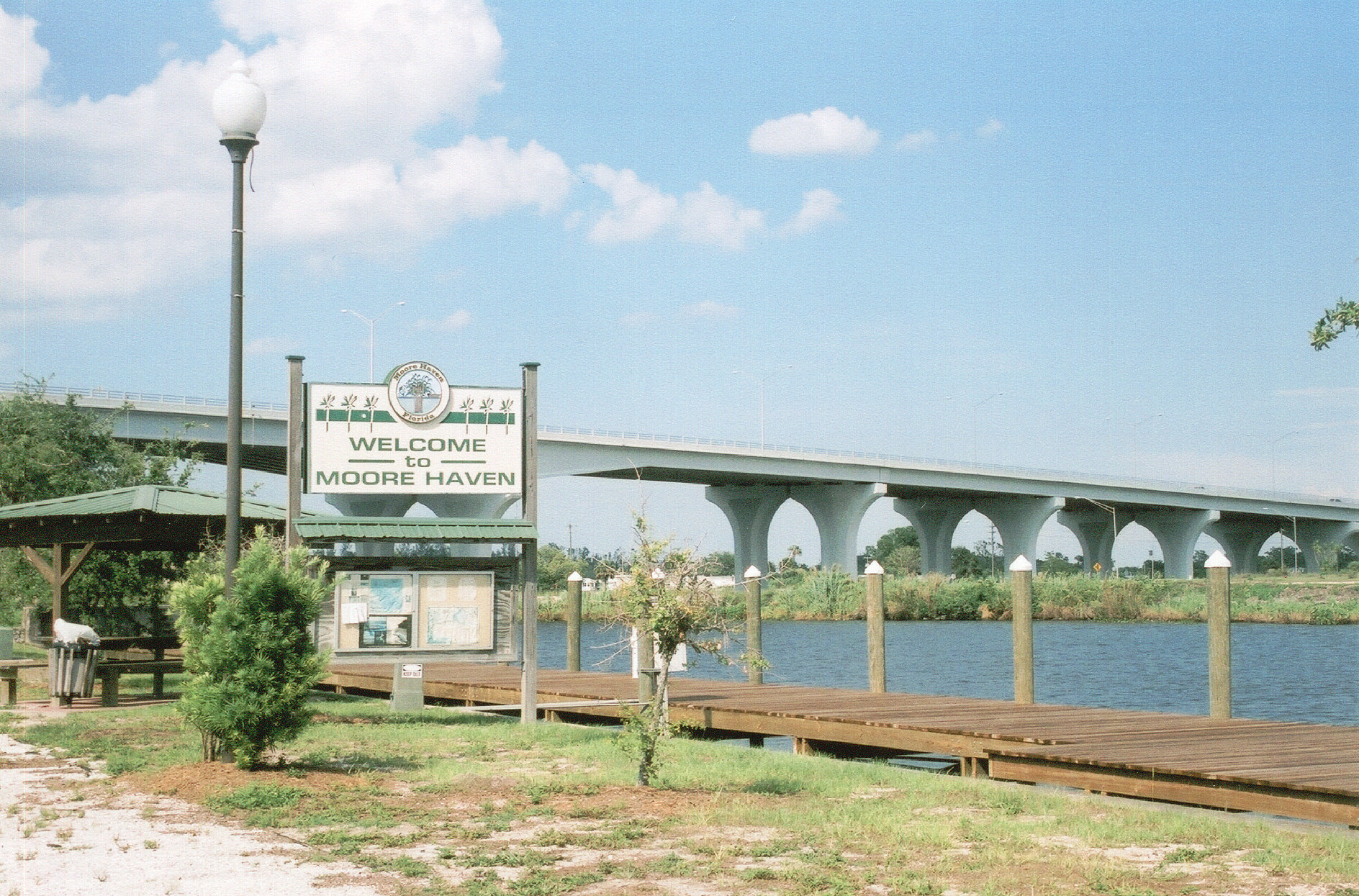 The City of Moore Haven was founded on the banks of the Caloosahatchee River by James A. Moore in 1915, establishing the town as the major commercial center of the entire Lake Okeechobee region.
Located on US 27, one of the major north-south connectors in the state, Moore Haven was designed to front on the Caloosahatchee River—the western half of the Okeechobee waterway which crosses Lake Okeechobee and connects the Atlantic and Gulf Coasts. Moore Haven is almost equidistant from West Palm Beach and Fort Myers and within two hours of Miami and Orlando.
The city of 1900 residents offer visiting boaters dockage, restroom and shower facilities, barbecue and picnic facilities, and shopping and dining within walking distance of the waterfront. Visitors can choose from southern home cooking for breakfast or lunch at Ahern's Deli, 1198 US Hwy. 27 N, Moore Haven, FL 33471 within Ahern's Service Center and Convenience Store. Phone (863) 946-3000 for more information.
You can enjoy traditional African American specialties like Chittlin's and Oxtail Soup, along with other comfort foods at Kurbside Treats, 1365 N US Highway 27, Moore Haven, FL 33471. Find them on Facebook or phone (863) 509-8071 for more information.
You can enjoy Mexican specialities for lunch or dinner at Haven's Kitchen, 299 Avenue I, Moore Haven, FL 33471 or enjoy ice cream or a smoothie at the original Haven Fresh, next door. For more information or order take-out, phone (863) 509-8555
If you're in the mood for Italian favorites like pizza, stromboli or calzone check out the newly remodeled Joey's Pizza, 699 US-27, Moore Haven, FL 33471 or phone (863) 946-1575 for lunch and dinner.
For a great steak served with your choice of beer, wine or spirits try Adams Angler's Reef, 199 S US Highway 27, Moore Haven, FL 33471, just west of the Okeechobee Waterway and Moore Haven's Riverwalk. For more information phone (863) 946-0611
A newcomer to Moore Haven's restaurant scene is Mimi's Place, 901 US Hwy 27, Moore Haven, FL 33471. Self-described as a coffee/food establishment offering a wide variety from iced coffees, bubble teas, ice cream, lunch specials like Italian Sausage, Ravioli and Spinach Soup and desserts like cranberry orange muffins. For more information or to order phone (863) 234-5139
The Glades County Courthouse, 500 Avenue J, Moore Haven, FL, 33471 with its three-story central portico, is an impressive Classical Revival design built in 1926 & is listed on the National Register of Historical Places. The rehabilitated courthouse features a fountain and inside a conference room, furnished in period style.
The historic Lone Cypress Tree, on Avenue J and Riverside Drive in Moore Haven, sometimes call the "Sentinel Cypress," has long served as a navigational aid first on Lake Okeechobee itself, then after the C-43 Canal was dredged to join the Caloosahatchee River to become the Okeechobee Waterway.
From Moore Haven's River walk, which was built along part of the seawall built for the original Moore Haven locks in 1918, visitors can watch yachts, riverboats, tugs, and bass boats as they navigate the Okeechobee Waterway, which connects Fort Myers on Florida's west coast to Stuart on the east. Enjoy lunch at one of the picnic pavilions. Dock your boat or fish off one of the finger piers. The city also offers yacht dockage, restroom and shower facilities, barbecue, and picnic areas within walking distance of the waterfront.
The Moore Haven Lock and Dam, : 204 Lock Rd, Moore Haven, FL 33471, located on the west side of Lake Okeechobee at the junction with the Caloosahatchee River, is one of five locks along the 152-mile Okeechobee Waterway currently managed by The US Army Corps of Engineers. Constructed in 1935, visitors can watch all manner of watercraft locking through the locks and may spot the occasional manatee or tarpon. Bank and pier fishing are allowed on the south side of river. Pedestrian access across spillway with permission. For information, call 863-946-0414 or visit www.saj.usace.army.mil
Uncle Joe's Fishing Camp, 2005 Griffin Road SE, (CR 721) south of Moore Haven, feature cabins alongside the lake for overnight retreats. The camp also offers boat rentals & supplies. During WWII German POW's were interned here. The site also known as Liberty Point, was named for the Liberty Bonds (that Alonzo Clewis, prominent Tampa Banker for whom Clewiston was named) which were sold to purchase land. For more information phone (863) 946-9421
Visitors to Moore Haven can also stay at the Rice Motel, 199 Avenue I, Moore Haven, FL 33471, built in 1946 which offers 12 rooms just south of the Moore Haven Marina. For reservations phone (863) 946-0424.
Another local favorite is the Moore Haven KOA, 17192 US 27, Moore Haven, FL 33471, formerly M RV Resort, 12 miles north of the city. The resort boasts full RV hook-ups and park model rentals among other amenities. For more information, phone (863) 946-6616.
A little more out of the way, off SR 80 between Clewiston and LaBelle, but popular with visitors to Moore Haven and Glades County is the Glades RV Resort, Golf and Marina, 1682 Indian Hills Dr, Moore Haven, FL 33471. The only RV park in Glades County with a marina on the Caloosahatchee River, the Glades Resort also boasts two restaurants including the newly opened Grumpy's Pizza Pub, 1682 Indian Hills Drive, Moore Haven, FL 33471, at the Glades RV Resort
where boats can dock and dine to enjoy pizza, subs and salads or their favorite Italian dinner specialties served in the two-story restaurant featuring an antique bar and waterfront views. The Glades also offers cozy cabin rentals, complete with kitchenette and screened in porches, from which visitors can enjoy birdwatching on this former Glades County ranch. The Glades is also home to Crumb's Country Grill, 1682 Indian Hills Dr., Moore Haven, FL 33471
adjacent to their nine-hole golf course, which serves breakfast and lunch from 7 a.m. to 2 p.m. For more information, phone (256) 616-6284 or visit https://www.thegladesresort.com/
Last but certainly not least, Moore Haven is home to the annual Chalo Nitka Festival and Ranch Rodeo, established in 1949, making it one of the longest running continuing festivals in the state of Florida. Held the first weekend in March each year, the Chalo Nitka Festival is for all intents and purposes the Glades County Fair, but with a twist as it features a ranch rodeo Friday and Saturday and highlighting the traditional relationship between pioneering cowboys and their relationship with cattlemen associated with the Seminole Tribe of Florida at the Brighton Seminole Indian Reservation.
Held annually at the Chalo Nitka Grounds, 301 10th Street, Moore Haven, FL 33471, the Chalo Nitka Festival features live entertainment, including alligator wrestling. For more information, phone (863) 946-0300 or visit chalonitka.com
ADD PAGE
As you navigate our website, you can use the "Add Page to Report" button to add any page or property to a custom report that you can print out or save.