Lakeport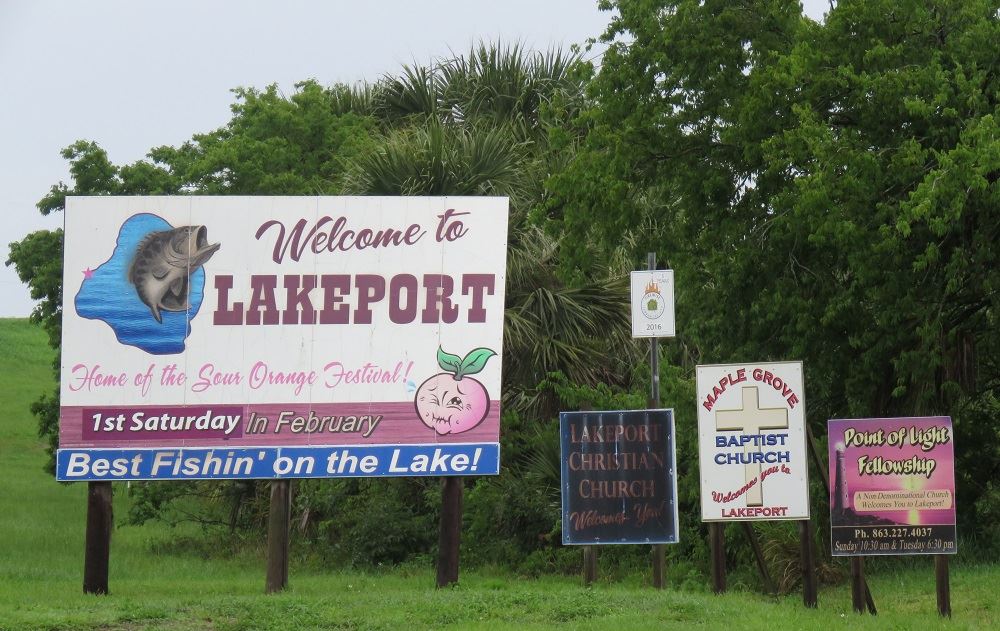 Founded in 1913, Lakeport was originally known as the Lakeport Colony and is located in northern Glades County along the northwestern shore of Lake Okeechobee.
The "fish capital" of Florida in the early days when catfish, gar, shad, blue gills, and crappie—or Speckled Perch as they are known here—and bass could be shipped north when the railroad reached the city of Okeechobee, large-scale seine netting in the early years left bass the predominant species making Lake Okeechobee the Bass Capital of the world.
Lakeport is home to more trailheads along the Lake Okeechobee Scenic Trail, the 110-mile trail along the 35-foot Herbert Hoover Dike, than any other community around the Big O. Its height allows for excellent vistas, wonderful wildlife viewing and in some areas primitive tent camping is allowed. The Lake marsh between Harney Pond Canal and Buckhead Ridge Canal, some 21,210 acres, were designated wildlife sanctuaries by the government and cabinet in 1938 & the Audubon Society has been protecting them ever since (hunting and fishing are allowed).
Harney Pond Canal Recreation Park, at the intersection of SR 78 E at CR 721, Lakeport, features a picnic area, restrooms, bike path and boat ramps.
Vance Whidden Park, on SR 78 E, between Nicodemus Slough and Fisheating Creek, Lakeport, also known as Curry Island, features a paved hiking/ biking and jogging trail, primitive tent sites, canoe, and kayak access, airboat launch and hunting venue. The park area, 12 miles north of Moore Haven, FL is historic in nature, as it once featured a dock from which Lykes Bros. Inc. used to ship cattle destined for Cuba.
Fisheating Creek Wildlife Management Area, East, 3010 Banana Grove Rd., Moore Haven, 33471, just across SR 78 from Curry Island is home to the Fort Center Trail, a 1½ mile long trail open daily to hikers and bikers. Observation decks for bird viewing, parking and restrooms are available. Interpretative kiosks depicting the Creek's Native American archaeological history, the Creek's role as headquarters for Union troops at Ft. Center during the Seminole Wars and its rich natural flora and fauna dot the trail. For more information, phone (863) 946-1194 or visit www.myfwc.com/recreation/fisheating_creek
Old Sportsman's Village, SR 78 E, south of Lakeport, features a boat ramp, bank fishing, and picnic tables and is a preferred launching site for air boaters accessing the Rim Canal and Lake Okeechobee.
Celebrated by duck hunters and fishermen, every year Lakeport hosts the annual Sour Orange Festival, which is known for its famous Sour Orange Pie, a longtime favorite. Residents and visitors alike are encouraged to enter the dessert contest, using the wild sour oranges which give the festival its name. The festival is set for the third Saturday in January.
Visitors to Lakeport can choose from a variety of accommodations and eateries.
If access to bass fishing on Lake Okeechobee is what you're looking for, the Aruba Campground, 1073 Old Lakeport Rd NW, Moore Haven, FL 33471, offers 138 full service lots with hook ups, internet access, cable TV and more with 26 vacant sites for transient RVers. Aruba is home to 19 permanent residents while the remainder average a six month stay. Bookings are available in the off season, based largely on which fish are biting on the western side of the Big O at the time. For more information phone (863) 946-9111
The Aruba Campground is also home to Aruba's Bar and Grill, 1073 Old Lakeport Rd, Moore Haven, FL 33471. Open from 11 a.m. to 9 p.m., their motto is "when life throws you a burrito, it's a wrap". Eat it! For more information, phone (863) 946-1324
A little further north, off SR 78, the Lakeport Lodge, 1077 Lakeport Plaza, Okeechobee, FL 34974, on Lake Okeechobee's rim canal has 26 rooms which play host to fishing guides and fisherman from all over the country. For more information, phone (863) 946-2020. A full-service bar and restaurant, The Duck Pub, 1031 Lakeport Plz, Okeechobee, FL has been serving local residents and visitors since 1997 with daily lunch specials and live local entertainment on Friday nights. For more information, phone (863) 946-2337.
Little Big Man's Marina, 3091 County Road 721 Loop, Moore Haven, FL 33471 is another historic fish camp on the Rim Canal at Lakeport in gloriously natural Glades County. For more information, phone (863) 946-1441.
Northlake Estates, 12044 E. SR 78, Moore Haven, FL 33471, 12 miles north of the county seat in Lakeport, which has park model accommodations and is home to 30-amp/50-amp sites with full hook up, available on a month to month, seasonal or annual basis. Vacation rentals and motel rooms are also available to the non-RVer. All guests can enjoy a variety of amenities, ranging from a swimming pool, clubhouse and six acre lake for bank fishing and nature walks.For more information, phone (877) 690-2739 or visit www. NORTHLAKE@SUNCOMMUNITIES.COM
Visitors to Northlake may want to check out the Lakeside Bristro, just south of Northlake Estates at 11692 E St Rd 78, Moore Haven, FL 33471. Open 5:30 a.m. to 2 p.m. daily, the Bistro serves American food with specialiities ranging from chicken and dumplings to tequila chicken. For more information phone (863) 354-3014 or visit www.lsbistro.com
If you're looking for more rustic accomodations, check out Twin Palms, 15259 E State Road 78, Okeechobee, FL 34974, also in Lakeport which boasts 117 RV lots as well as 1 & 2 bedroom cabins for visitors in addition to 19 full-time residents. Amenities include a swimming pool, bar and liquor store on site, as well as shower rooms and on-site storage.
Ideal for fisherman and duck hunters, the resort offers on-site fishing guide and hunting services and fish cleaning houses. For those who prefer wildlife viewing, a man made pond is on the site which is near the Lake Okeechobee Scenic Trail which offers additional wildlife viewing, hiking and biking opportunities.
For more information,, phone (863) 946-0977 visit www.twinpalmsfishcamp.com
ADD PAGE
As you navigate our website, you can use the "Add Page to Report" button to add any page or property to a custom report that you can print out or save.